Spring Into The Warm Months With An Outdoor Space You Will LOVE!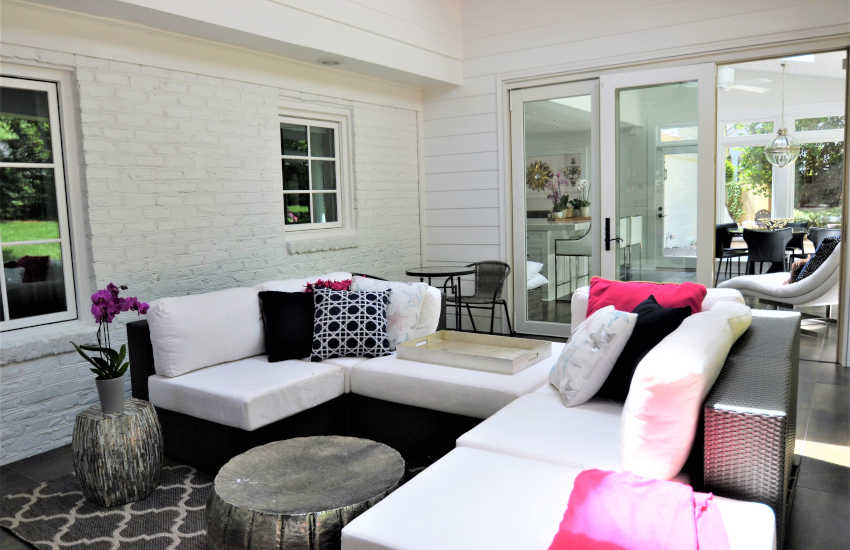 Warm weather calls for pool days, barbecues, cozy nights by the fire and lots of time shared with friends and family. Spend these warm days in an outdoor space perfect for your family and every outdoor gathering!
For this Raleigh family, an outdoor space was exactly what their home was lacking. With no where to entertain in the summer months they knew it was time to make a change!
The Sunroom
We first started with the sunroom. This already open space leading into the kitchen made for a great entrance to the new covered porch. We installed 24″ x 24″ Porcelain tile flooring, can lighting and skylights to the space. A new doorway was installed entering the covered porch and creating a nice flow from the kitchen.
The Covered Porch
This new covered porch made for a perfect hangout during the summer months but also a cozy space for the cold ones too! We began by pouring concrete where the covered porch would be built. Once the concrete was poured, new tile floors matching the sunroom were installed. Lighting was next with 6″ LED can lights with and a dimmer.
To add to the cozy comfort of this new space the Homeowners selected a 36″ gas fireplace insert. We added brick veneer matching the existing brick on the house as needed on the exterior walls of the new fireplace. Lastly, 16″ x 16″ porcelain tile was installed to surround the fireplace and complete the look.
To make this space enjoyable year round we installed Phantom Screens to the new covered porch area. Once the initial build was complete our friends at Lavish Raleigh came to add their special touches to this luxurious space!
Spending time outside is a group favorite during the warm months. In this case it is an entertainment space year round!
Interested in creating the ultimate hangout space for your home during the summer months? Send us a message under the Contact Us tab and lets get you and your family ready for the summer months!